He's a player in more ways than one…

College junior John Logan can get any girl he wants. For this hockey star, life is a parade of parties and hook-ups, but behind his killer grins and easygoing charm, he hides growing despair about the dead-end road he'll be forced to walk after graduation. A sexy encounter with freshman Grace Ivers is just the distraction he needs, but when a thoughtless mistake pushes her away, Logan plans to spend his final year proving to her that he's worth a second chance.

Now he's going to need to up his game…

After a less than stellar freshman year, Grace is back at Briar University, older, wiser, and so over the arrogant hockey player she nearly handed her V-card to. She's not a charity case, and she's not the quiet butterfly she was when they first hooked up. If Logan expects her to roll over and beg like all his other puck bunnies, he can think again. He wants her back? He'll have to work for it. This time around, she'll be the one in the driver's seat…and she plans on driving him wild.
MICHELLE'S REVIEW
Lovers. I didn't think it was possible. But I think I love THE MISTAKE more than THE DEAL. And I LOVED THE DEAL. Like a lot. But this book- it was just so good.

This is Logan's story and boy was it a good one. For one thing- we're all dying to know how he's holding up. He's watching his best friend be in love with a woman he feels he is in love with- or is he???
Enter Grace. She's young- yes- but she is EVERYTHING I could ever want in a heroine. She is strong and funny and smart. She takes absolutely NO SHIT from anyone and God- I just love her!


She babbles like an idiot when she's nervous but she is so damn cute!
John Logan has been spending his time trying to avoid his best friend Garrett and his love- Hannah. And his method of forgetting? Sleep with anyone he can. So when one small Mistake leads him to Grace's door- he has no idea what he's in for. But when another small Mistake forces Logan to prove to Grace he's as awesome as everyone says he is- he finds himself intrigued by the little firecracker.

That intrigue builds and builds and with it- Grace sees a Logan she really likes. Until shit really hits the fan and an even bigger Mistake happens.
Now lovers- I want you to know one thing. Logan is a dope. BUT the minute he gets his head out of his ass- he became one of my top book boyfriends of all time. This man worked hard for love and it was AWESOME.

Much like THE DEAL, THE MISTAKE is going to give you a range of emotions. There were moments I was laughing out loud. The task list Logan has?? I died laughing! And some of his new bromances- omg. I can't even. The humor factor is here is high and it all works.
But there were times my heart was breaking. Logan will break your heart at moments just from his life story but then seeing what he does for Grace to win her back- swoon!!!


He and Grace have a lot to work through and as much as I was like GRACE FORGIVE HIM- I love that she was strong and made him work to be worthy of her.
I feel like I am on the verge of rambling because everything about this book just worked. There isn't a single, solitary thing I would change or add to this story because it was perfection defined.
I think the epilogue may have been the greatest one ever. EVER. And fans of THE HOOK UP by Kristen Callihan- be on the lookout for a shoutout to Drew!
Elle Kennedy has a fan for life in me. I am just enamored with her writing.

Can't wait for more from this gang!
Off-Campus Book #1
Read Michelle's review HERE
She's about to make a deal with the college bad boy…
Hannah Wells has finally found someone who turns her on. But while she might be confident in every other area of her life, she's carting around a full set of baggage when it comes to sex and seduction. If she wants to get her crush's attention, she'll have to step out of her comfort zone and make him take notice…even if it means tutoring the annoying, childish, cocky captain of the hockey team in exchange for a pretend date.
…and it's going to be oh so good
All Garrett Graham has ever wanted is to play professional hockey after graduation, but his plummeting GPA is threatening everything he's worked so hard for. If helping a sarcastic brunette make another guy jealous will help him secure his position on the team, he's all for it. But when one unexpected kiss leads to the wildest sex of both their lives, it doesn't take long for Garrett to realize that pretend isn't going to cut it. Now he just has to convince Hannah that the man she wants looks a lot like him.
AUTHOR INFO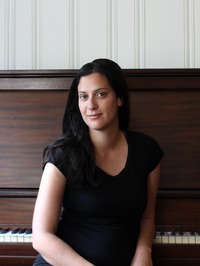 A RITA-award nominated author, Elle Kennedy grew up in the suburbs of Toronto, Ontario, and holds a B.A. in English from York University. From an early age, she knew she wanted to be a writer, and actively began pursuing that dream when she was a teenager.

Elle currently publishes with Harlequin Romantic Suspense, Harlequin Blaze, Samhain Publishing, and NAL. She loves strong heroines and sexy alpha heroes, and just enough heat and danger to keep things interesting!